Pia Ferm
| | |
| --- | --- |
| *1986 | Lysekil, Sweden |
| 2011–2014 | Dômen artschool, Gothenburg |
| 2012–2013 | Valand Academy, University of Gothenburg, Gothenburg |
| 2014–2020 | Städelschule, Frankfurt am Main, class of Tobias Rehberger |
| | |
| | Lives and works in Frankfurt am Main |
| | |
| --- | --- |
| 2022 Ottilie Roederstein Young Talent Fellowship, Hessian Ministry of Science and the Arts | |
| 2020 Travel grant, Hans and Stefan Bernbeck Foundation, Frankfurt am Main | |
| 2019 Sponsorship award, Die Künstlerhilfe Frankfurt e.V., Frankfurt | |
| 2017 Marita Kaus Memorial Prize, working scholarship, Frankfurt am Main. | |
| Helge Ax:son Jonsson Stiftelse, scholarship. | |
| Salzburg International Summer Academy Study Grant, Salzburg | |
| 2016 | Stiftelsen AAAs fond, Scholarship |
| 2015 | Stiftelsen AAAs fond, Scholarship |
| 2014 | Stiftelsen AAAs fond, Scholarship |
| 2013 Dômen Konstskolas Utställningsstipendium, Dômen | |
| | |
| --- | --- |
| 2021 | bread and butter, Galerie Judith Andreae, Bonn |
| 2019 | A good life's sleep (mit Kristina Lovaas), Kornhäuschen, Aschaffenburg |
| | good breed, Nassauischer Kunstverein, Wiesbaden |
| 2017 | Weight oft he walls, Opelvillen Kunstverein, Rüsselsheim |
| | Secret liaison (mit Malin Speicher), Im Goldenen, Düsseldorf |
| | |
| --- | --- |
| 2022 | Elb/Hängung #1, Villa am Elbhang, Hamburg |
| | Mixed Media, Evelyn Drewes | Galerie, Hamburg |
| | Mit den Füßen sehen – Der Teppich in der (zeitgenössischen) Kunst, Museum Villa Rot, Burgrieden – Rot |
| 2020 | L'Esprit, Portikus, Frankfurt am Main |
| | Time Flies in This Pending Space, 5th Floor, Frankfurt am Main |
| 2019 | Lash 23, Nassauischer Kunstverein Wiesbaden |
| | A good lifes sleep, Kornhäuschen, Aschaffenburg |
| | TAKE IT EASY, Galerie Judith Andreae, Bonn |
| 2018 | Stone sympasiu, Summeracademy Salzburg, Untersberg |
| | Pointland, Galerie Conradi, Hamburg |
| 2017 | Stone sympasiu, Summeracademy Salzburg, Untersberg |
| | Die Waltz, Frankfurt |
| | How to disappear and never be found, Statio, Offenbach |
| 2016 | Stone sympasiu, Summeracademy Salzburg, Untersberg |
| 2015 | Out of the blue, Well, Well, Well, Wien |
| | 24 Seuns sangga, XiooXio, Seoul |
| 2014 | Dômen konstkokas vårustställning, Göteborg |
| 2013 | Tre debutanter, Göteborgs Konstförening, Göteborg |
| | Skanka loss, Gagnef |
| | Pow-wow-snap!, Galleri Monitor, Göteborg |
| 2012 | Art and Publishing, Rotor2, Göteborg |
| 2011 | Contemporary printmaking, Rotor2, Göteborg |
I often think about how to describe my work in a way that fairly taps into all parts of my practice. And I always come back to the simple word pictures. But images in a very broad sense, where it could also include a three-dimensional sign or pictogram.
I want my objects to balance on the boundary between being and describing themselves. Like hieroglyphics that have left their walls, or a drawing that has become a sculpture - not the subject of the drawing - but the drawing itself, which has become a sculpture.
In terms of my weavings and hand-tufted works, I would explain it this way: despite the fact that they may flirt with a painterly sphere, they are much closer in expression to drawings, collages, or traditional printmaking. And in their finished state, they are more like sculptures: a sculpture made of a drawing and its paper, or an object in which both lines and empty fields are represented by a textile body.
I would also like to point out the slight misuse of the word "image" in relation to my works and the association with painting. An object that contains or shows an image - without being a photograph - does not automatically make it an object that has the claim to be considered a painting. If image equaled painting by default, logic would dictate that a tapestry, drawing, collage, or print could be nothing more than a blueprint for a painting or a mere painting-wannabe object. It falls into its own impossibility, since we know that this is not the case, and in the age of (digital) images, I think we should tune our perception and language to correspond to and reflect the multiplicity in the sense of this word.
This is also the reason why I like the German word Bildhauerin so much. It corresponds very well with, as in the feminine conjunction of what strictly speaking would be translated as "Bildschnitzerin" or "Bildschneiderin." Even though I'm really just digging away material when I work with stone, I feel like I'm doing something that resembles slowly chiseling away and uncovering an image. It's also a physical output for my gaze, an offering to others to share my point of view and engagement and compare it to their own. It doesn't necessarily have to make sense or even be intellectually decipherable, as I think about art as an untranslatable medium where the paradox is that I can still communicate freely: I can understand and I can be understood. The previous step of my work yields the next, and thus I can build a grammar that constrains my practice. Or I can create a framework from which to proceed.
I also like the words old-fashioned connotations that inhibit a time-bound dimension.
Pia Ferm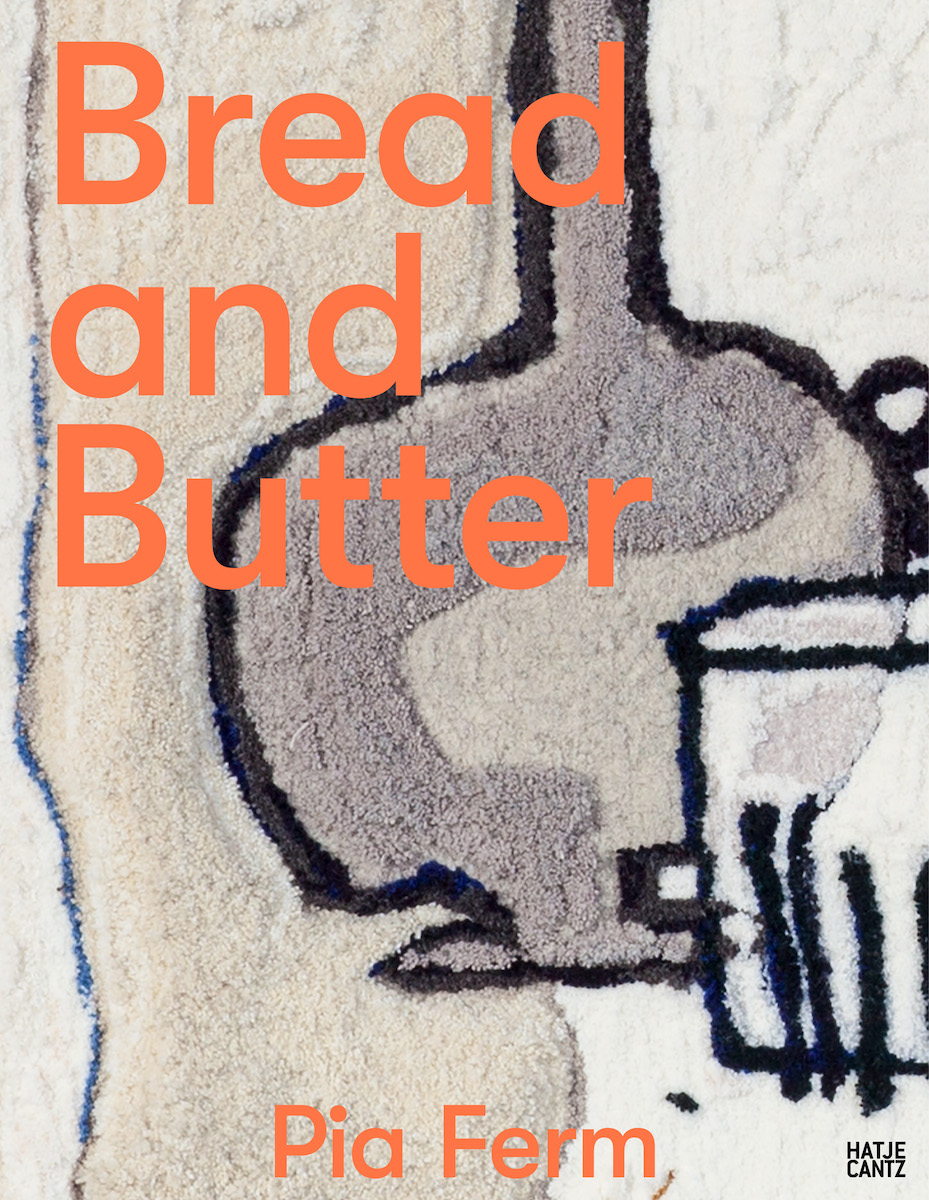 Pia Ferm | Bread and Butter
Work monography
2021, 128 pages
Hatje Cantz publishing house

Available via Galerie Judith Andreae